CARRÉ LUXURY GLASS IN-DEPTH PRODUCT INFORMATION
WHY CHOOSE OUR LUXURY EYEWEAR SHELVES


Beautiful eyewear deserves to be shown in the very best way.



When developing products, our focus remains to present eyewear in a clear, secure, and attractive way. But over the years, we've built our knowledge upon the foundations of retailing, technology, and industrial design to make your optical frames shine.
Avoid cast shadow in optical displays



Over the years, we noticed that when eyewear gets displayed on glass shelves, a lot of cast shadow was visible. The optical glasses were poorly lit with limited visibility which prevented collections from getting the exposure they deserved. We asked ourselves the question. How do you solve this in combination with the right ceiling lighting?
Uniquely developed top-panel LED lighting



We set ourselves to the task of designing a minimalist optical display system, that was fully dedicated to eyewear and would easily integrate into any interior. We created a high-end product made out of durable steel, that's intended to last for several store generations. Uniquely developed top panel LED lighting, that illuminates the entire eyewear segment. Combine with the right ceiling lights it creates the right balance.
Which luxury optical shelving display fits the best for you?
The Carré optical glass luxury shelving units are available in two different sizes. Carré box-styled glass optical shelving displays are ideal for those small, creative collections that deserve to stand out. Carré optical horizontal glass shelving displays are minimalistic displays that provide maximum impact for small collections. Carré luxury horizontal optical shelving displays can be used as individual displays or can be connected for you to create horizontal lines in your store concept.
CARRÉ GLASS PANEL LIGHT
IN-DEPTH LIGHT INFORMATION
The Carré glass Optical shelving displays with top panel lighting creates a natural appeal and reduces cast shadow, providing a calm and serene view where the focus on the glasses is inviting and appealing.
HIGH-INTENSITY LIGHT
LED light panels as used in contemporary architecture did not meet our requirements. For the Carré Glass Optical shelving displays we needed homogeneous lighting with three times the light intensity to realistically present each pair of optical glasses. We, therefore, decided to develop our own lighting system that would give the eyewear the exposure they deserve.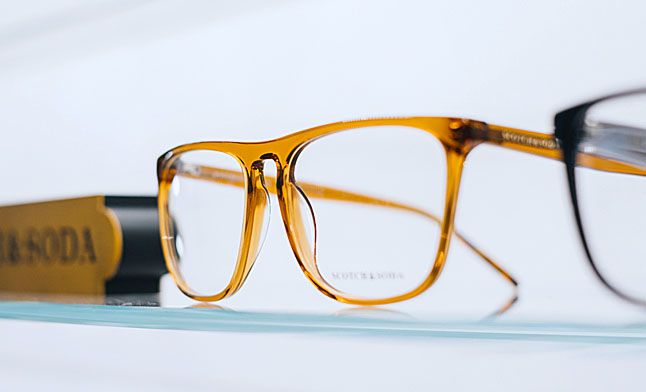 CRYSTAL CLEAR LIGHT GUIDES
The Carré Glass Optical shelving displays use our newly developed LED panels that act as crystal clear light guides. LED lighting modules placed around the panel distribute the light at regular intervals. The thickness and quality of the LED panel ensure minimal light loss and optimal homogeneous natural light.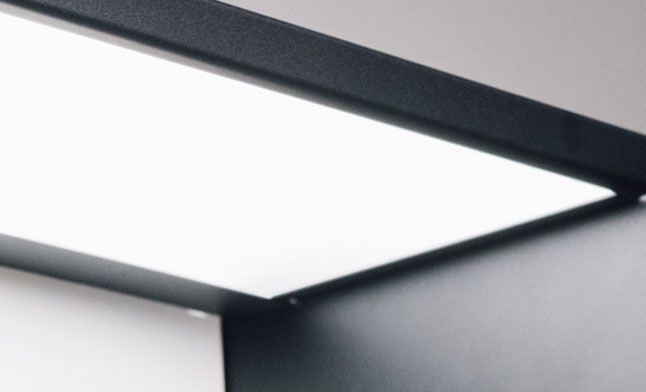 OPTIMAL BALANCED LIGHT
A balanced spectrum of light intensity and colour is essential to show colours as they are and express the true beauty of your optical collections. Most objects around us are only visible because they are reflecting light from some other source. To show an optical frame in its true colour, it has to be illuminated by white light, which spectrum is a mixture of all colours of light.

This is how our optical lighting works:
A LED light of only a few millimeters projects itself through an emulsion layer which is filled with a high-quality complex formula of phosphors. The quality of this emulsion layer determines the specifics of the colour spectrum. Where low-cost LED lighting has a limited colour rendering of less than 60 CRI (colour rendering index), our in-house developed light modules have a balanced colour rendering with optimal natural light (Osram).

LiGHT INTENSITY & CEILING LIGHT
The Carré glass optical shelving displays with top panel lighting have a colour temperature of 4000 Kelvin, which is a bright white colour. By combining this illumination with tailored ceiling lighting like wall washers, you can create a lively and natural light image and the most optimal eyewear display.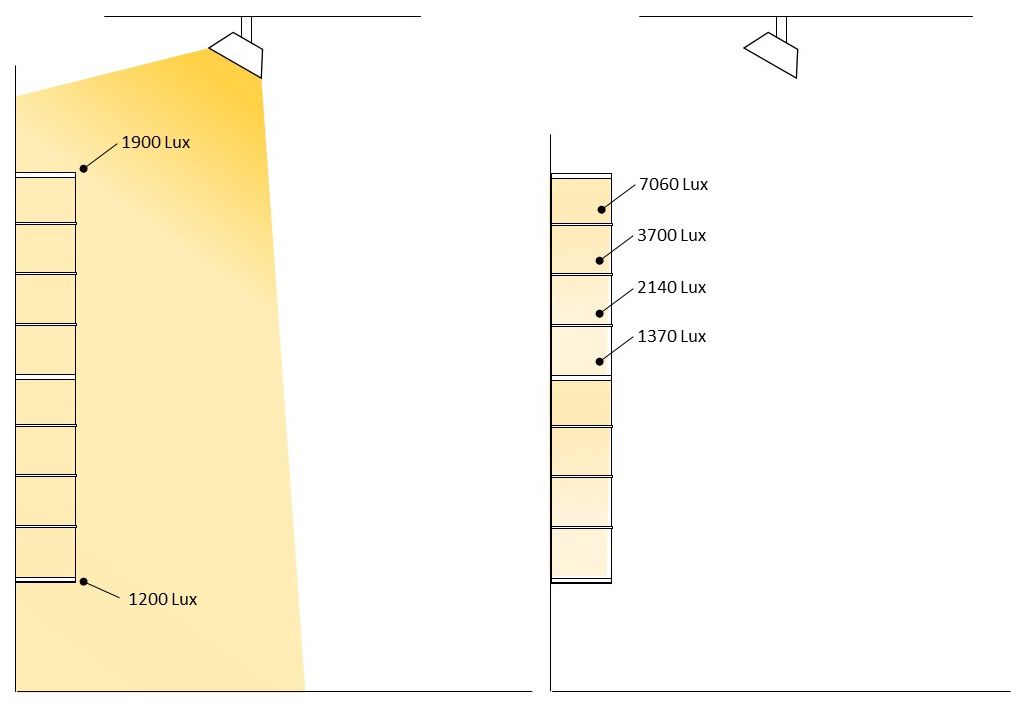 Additional ceiling light intensity requirements for the best results.

Carré glass optical shelving displays with a light intensity of 7060 to 1370 * Lux per shelve / per frame.
(*depending on local circumstances)

EFFICIENCY TO LET YOUR OPTICAL GLASSES SHINE

The latest LED technology and in-house developed electronic chipsets guarantee maximum conversion of energy into light with three times the light intensity yet only 1.6 times the energy consumption. With electronically controlled heat management, heat sinks for optimum heat transfer and passive airflow behind the panel, a sustainable solution has been created with an optimal lifespan of the light sources.