10 LED SPOTS PER OPTICAL FRAME // IMPECCABLE LIGHT
EXPERIENCE OUR IMPECCABLE LIGHTING
Our newly-developed Carré LED technology uses ten individual LED lighting spots for each pair of frames. The integrated light elements in the Carré optical steel shelving displays (lockable and non-lockable) are positioned at the front-bottom of the shelf at a specific angle to light up the front of the eyeglasses, while the reflection of the back panel provides the perfect illumination. This combination of direct and indirect light and the intermission between each optical frame presentation creates a lively bright image, which makes each optical frame stand out and makes your eyewear shine!
STABLE LIGHT
The LED lighting modules of the Carré steel optical displays (lockable and non-lockable) guarantee a constant-voltage power supply for each light unit and is fully electronically controlled.
This system provides completely continuous light, without any flickering. The result: stable light for every pair of glasses, and a calm and serene view where the focus on the eyeglasses is inviting and comfortable.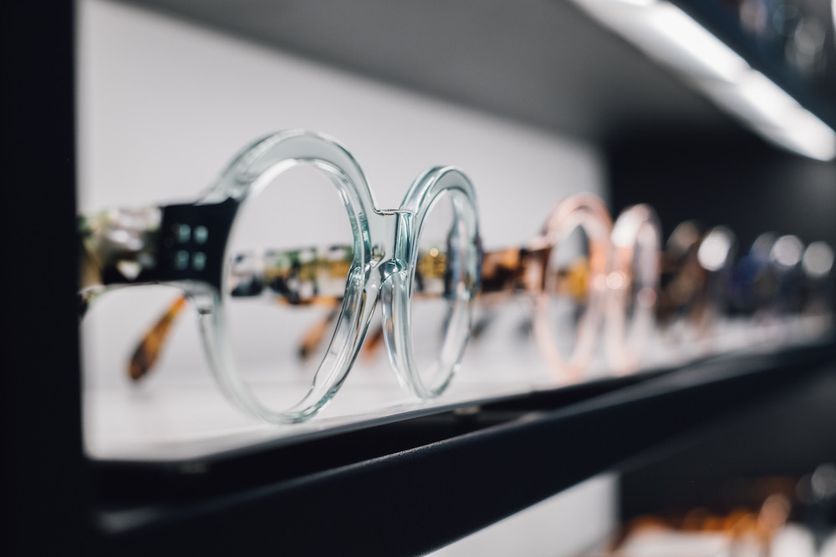 OPTIMAL BALANCED LIGHT
A balanced spectrum of light intensity and colour is essential to show colours as they are and express the true beauty of your optical collections. Most objects around us are only visible because they are reflecting light from some other source. To show an object in its true colour, it has to be illuminated by white light, which spectrum is a mixture of all colours of light.

THIS IS HOW IT WORKS:
A LED light of only a few millimetres projects itself through an emulsion layer which is filled with a high-quality complex formula of phosphors. The quality of this emulsion layer determines the specifics of the colour spectrum. Where low-cost LED lighting has a limited colour rendering of less than 60 CRI (colour rendering index), our in-house developed light modules have a balanced colour rendering with optimal natural light (Osram).


LiGHT INTENSITY & CEILING LIGHT
The Carré optical steel shelving displays illuminate each frame with ten individual ten LED lighting modules that have a colour temperature of 4000 Kelvin and an average light intensity of 6150 Lux*. (*depending on local circumstances)
By combining this illumination with tailored ceiling lighting like wall washers, you can create a lively and natural light image and the most optimal eyewear display.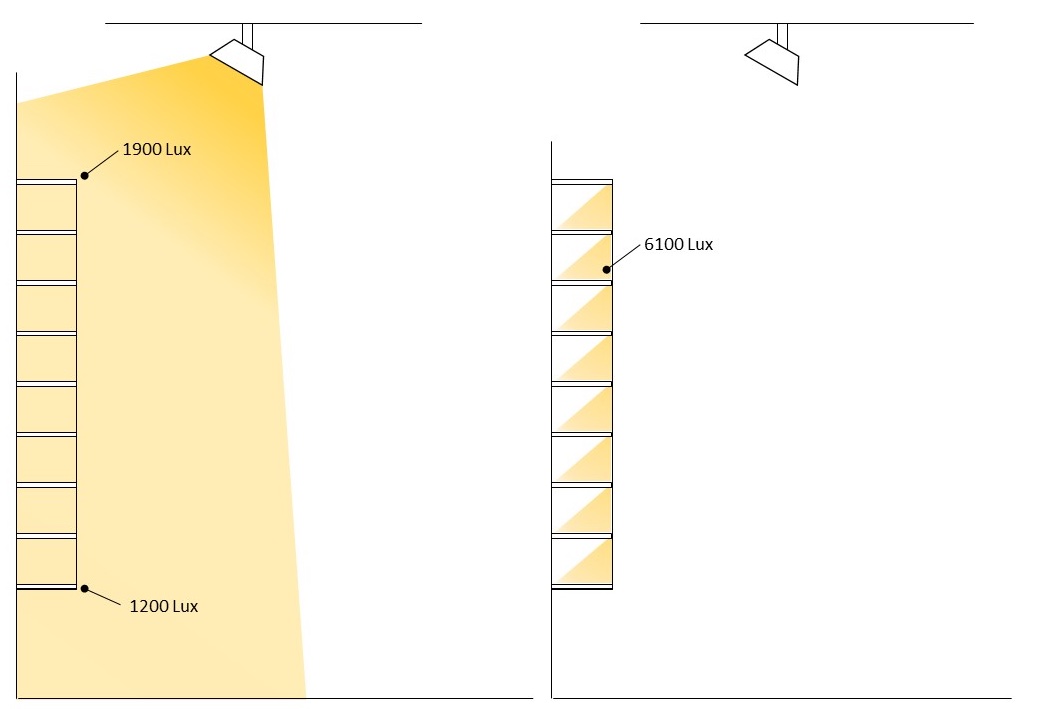 Carré steel shelving units with a light intensity of 6100 Lux per frame.

Additional ceiling light intensity requirements for the best results.

HIGHEST CLASS IN EFFICIENCY
Regular LED applications that are not electronically controlled, need dissipation resistors to determine the light intensity. We have developed special driver chips that can deliver very constant durability to the LED lights without the need for these resistors, which allows the heat development to be extremely low. The less heat loss, the more durable. The result? Long life and higher efficiency of your light source.
EASE OF SERVICE
The use of printed circuit board (PCB) connectors in the unit creates a stable power network.
In case of service, this has a great additional convenience, which allows our modular parts to be easily replaced locally.
A sustainable reliable product that's made to last for years. An outstanding piece of work that secures easy maintenance anywhere worldwide.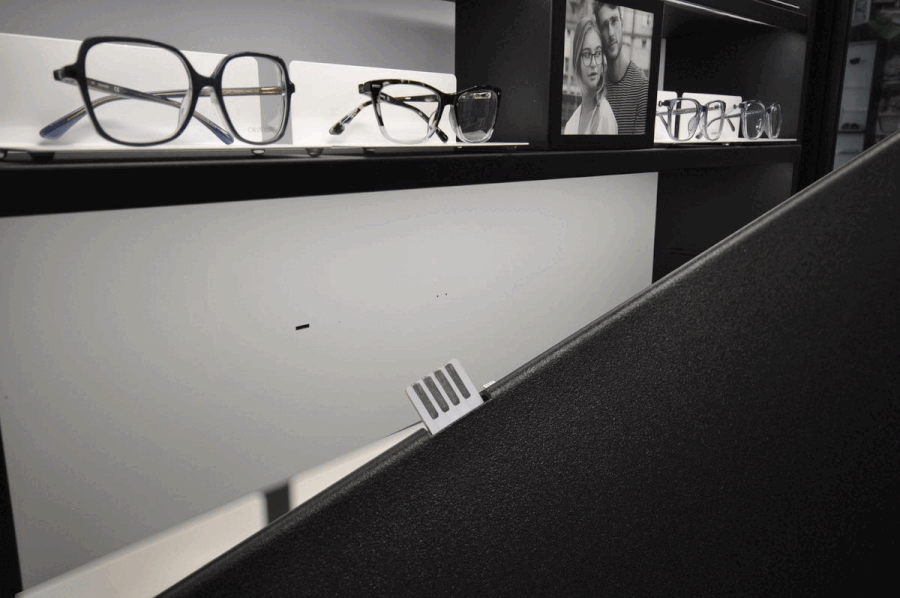 10 LED SPOTS PER OPTICAL FRAME // IMPECCABLE LIGHT
CARRE DISPLAYS WITH lighting modules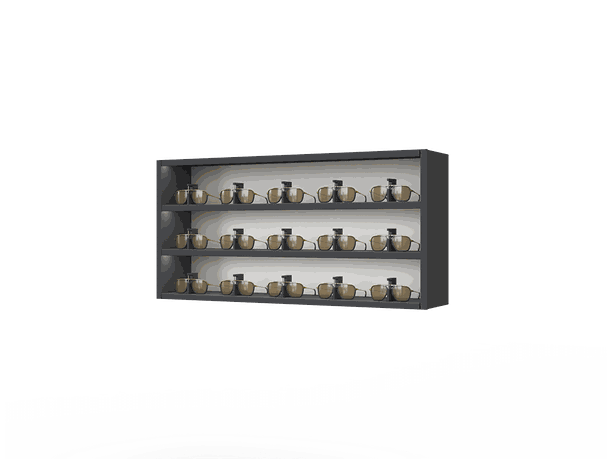 CARRÉ ONE 3X5
Carré horizontal lockable optical shelving displays are minimalistic eyewear displays that provide maximum impact for small optical collections.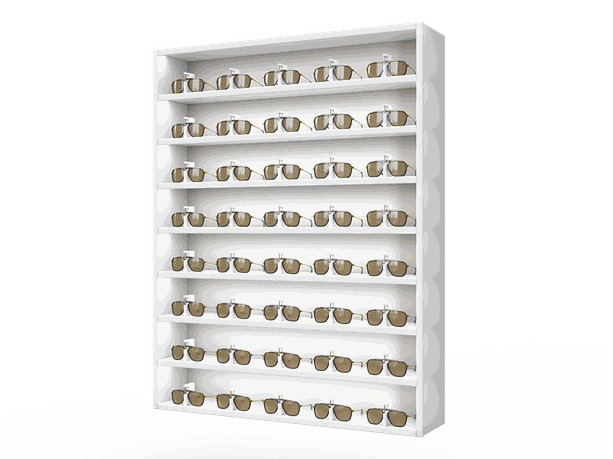 CARRÉ one 8X5
The large Carré lockable optical shelving displays are ideal to present full eyeglasses collections of your unique eyewear brands.